RULES >
ARE YOU READY TO WIN?
Catch the eggs to win big discounts!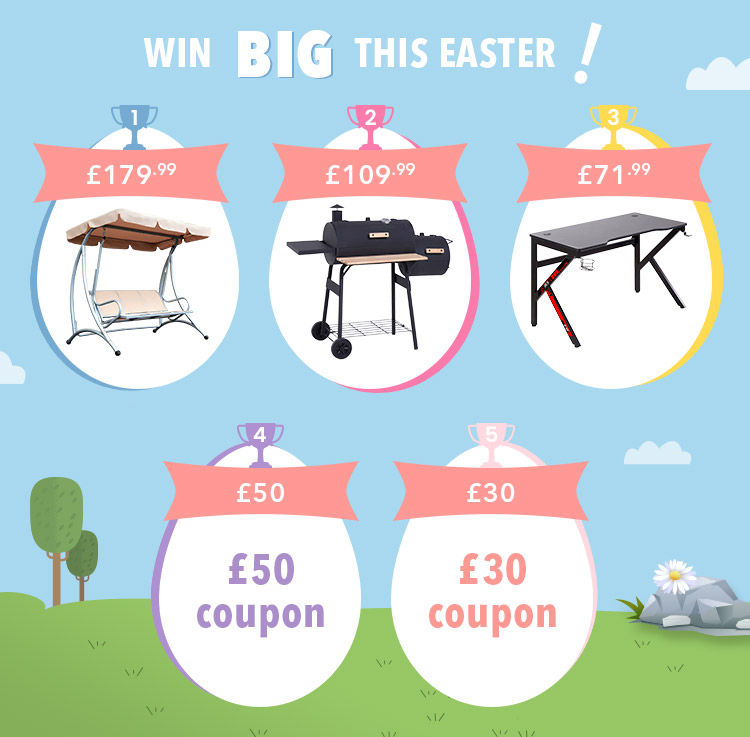 Our New Easter Decor Collection
Sorry, something went wrong!

Play again tomorrow or share to get more plays!

You have no chance left to play today.
Share to get more games!
Terms & Conditions
1.Users must have an account and be logged-in to play this game.
2.You will have three opportunities a day to play. Further opportunities can be unlocked by sharing with your friends on social media.
3.The game has no time limit, it ends the moment you touch a cracked egg. The more eggs you collect, the more prizes you can win.
Collect more than 10 eggs: 8% discount on all products. Collect more than 20 eggs: 10% discount on all products. Collect more than 40 eggs: 12% discount on all products. 4.The game will be available from 1st April to 18th April.
5.The top five users with the highest number of egg catches will receive the following prizes.
First place: Swing chair (SKU: 84A-053), worth £179.99
Second place: BBQ (SKU: 846-036), worth £109.99
Third place: Gaming table (SKU: 836-453BK), worth £71.99
Fourth place: £50 Aosom code
Fifth place: £30 Aosom code
Actual prizes mat differ at the time of award. We reserve the right to substitute the prize for one of similar value. All prize values are correct as of 01/04/22.
6.Prize Draw Date: 19th April 2022. Participants will have 72 hours to respond to our email to claim the prize. Failure to respond within this time will result in prize forfeiture and MH Star reserve the right to choose another winner. MH Star should have no liability for a winner's failure to receive notices due to spam, junk email, or other security settings or for a winner's provision of incorrect or otherwise non-functionctioning contact information.
7.In the event that there are ties for a position, prizes will be assigned based on the time that their score was achieved with the earlier score claiming the corresponding position prize and the later score claiming the next position prize. For e.g., if two participants are tied for second. The participant who achieved the score first will be assigned the second place prize and the other will be assigned the third place prize.
8.Participants agree that their name and partial email can be used and displayed on our website and social media.
9.Multiple entries from the same person is not permitted. Users with multiple entries will have all entries disqualified.
10.Players must be a resident of the United Kingdom aged 18 years or over except for employees of MH Star and their close relatives and anyone otherwise connected with the organisation or judging of the competition – including but not limited to: wholesalers, dropshippers and marketing partners.
11.MH Star UK t/a Aosom reserve the right to cancel or amend the competition and these terms and conditions without notice. Any changes to the competition will be notified to entrants as soon as possible.
12.The prize is as stated and no cash or other alternatives will be offered. The prize(s) are not transferable. Prize(s) are subject to availability and we reserve the right to substitute any prize with another of equivalent value without giving notice.
13.MH Star's decision in respect of all matters to do with the competition will be final and no correspondence will be entered into.
14.The competition and these terms and conditions will be governed by English law and any disputes will be subject to the exclusive jurisdiction of the courts of England.

1. Log-in or create an account to start playing.
2. Click and hold on Bruce the Bunny and move him left and right to catch as many eggs as possible, avoiding the cracked eggs.
3. If you catch a cracked egg, you lose.
4. The more eggs you collect, the more prizes you can win!
5. Play up to three times daily or share with your friends to unlock more plays.